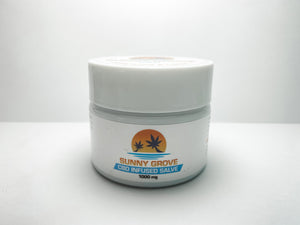 NEW! Full Spectrum Hemp Topical Salve
Our 2oz salve of full-spectrum hemp, combined with herbs and essential oils, is the perfect application for topical usage. Apply this salve liberally to sore muscles and achy joints to enjoy the full benefits of full-spectrum hemp extract.
Ingredients:
Full Spectrum Hemp Oil, Jojoba Oil, MCT oil, Candelilla Wax, Mango Butter, Comfrey Leaf, Cramp Bark, Hyssop Flower, Cayenne Pepper, Ginger root, Proprietary blend of essential oils. Certified Organic.
Today, as we learn more and more about the adverse effects of over-the-counter and prescribed pain medications, more and more people find themselves turning to holistic or natural methods for relief. Using topical products for pain represents a soothing and safe way to deal with many different ailments. Products containing CBD or full-spectrum CBD hemp oil represent an exceptionally efficient and pleasant way to fight pain and stress.
CBD Salve: 1000 MGs Full-Spectrum Hemp Topical:
Our uniquely formulated CBD salve contains full-spectrum CBD hemp oil to combat your pain and inflammation. Combining the CBD oil with other beneficial ingredients provides a synergy to provide instant and lasting relief. The additional ingredients in this product include the following:
Jojoba oil helps with inflammation and provides a calming effect.
MCT oil contains essential fatty acids and promotes energy.
Mango butter contributes to the youthful appearance of the skin with ample amounts of Vitamins A and C.
Comfrey leaf stimulates the cells and helps with healing.
Ginger root acts as a stimulant to provide anti-aging effects, and it helps to heal scars.
Cramp bark contains flavonoids and carotenoids, which prevent and reduce cellular damage.
Hyssop flower soothes and reduces skin irritation.
Why CBD salve works:
All the ingredients in our CBD salve work together to provide soothing relief, but as the vital ingredient, the CBD oil works due to something called the endocannabinoid system or the ECS. The ECS runs throughout the bodies of all mammals. Small acidic molecules called endocannabinoids, make up the ECS which covers all organs, nerves, muscles, and blood. Homeostasis or balance represents the primary function of the ECS.
When the ECS becomes compromised due to autoimmune illness, aging, stress, or poor lifestyle choice, cannabis gives the ECS a needed boost. This assistance to the ECS takes place because the cannabis plant possesses a system that mirrors the ECS. With CBD topicals, the product works at the cellular level by penetrating the C1 and C2 receptors in the skin. The body's largest organ responds quickly to this treatment, especially when combined with healing massage. 
Conditions relieved by CBD Salve:
The ingredients in our CBD salve not only assist with pain and inflammation but also help soothe and protect your skin. Some of the specific conditions relieved by this product include the following:
Arthritis
Joint pain
Muscular pain
Pain caused by autoimmune disorders such as fibromyalgia
Stress and anxiety
To receive the full benefits of the Full-spectrum CBD Salve, apply it liberally in a massage-like manner to aching joints and muscles.
Safety and added benefits of CBD Salve:
As we age, aches and pains become a more prevalent part of our lives. Of course, a healthy lifestyle with balanced nutrition, good quality sleep, and plenty of physical and social activity helps stave off the signs of aging. But, often, we need relief from the pain caused by arthritis or other degenerative conditions.
The warning and side-effects of prescribed medications cause many of us to avoid them as long as possible. Over- the counter drugs such as ibuprofen and acetaminophen may provide relief from pain and reduce inflammation when used occasionally. Still, over time these medications may lead to liver and kidney damage.
Commonly used analgesics often come with an overwhelming aroma, and even natural topical remedies such as Tiger Balm may make your eyes water.
Using CBD Salve not only represents a safe and effective method for pain and stress relief, but it also smells great. You may notice additional benefits, such as better sleep.
Additionally, though hemp and marijuana come from the same species of the cannabis Sativa plant, the cannabinoid cannabidiol or CBD contains no psychoactive properties and will not make you high. Products with CBD enjoy a legal status throughout the United States. 
For more information on making CBD Salve part of your healthcare routine, please visit us here.